While a little virus paralyzed the whole world last year, NordicPATH not only kicked off but can already show a considerable amount of engagement in the Urban Lab activities in Kristiansand.
Before the summer of 2020, we started identifying stakeholder groups that could be interested in the NordicPATH activities or that would be able to support the project one way or the other. After summer, the activities in Kristiansand were officially launched during the "Sustainability Festival" ("Miljøuka"). Solvor B. Stølevik and Alena Bohackova from the Kristiansand municipality presented NordicPATH at a stand, handing out information materials and invitations to interested citizens to join the project activities.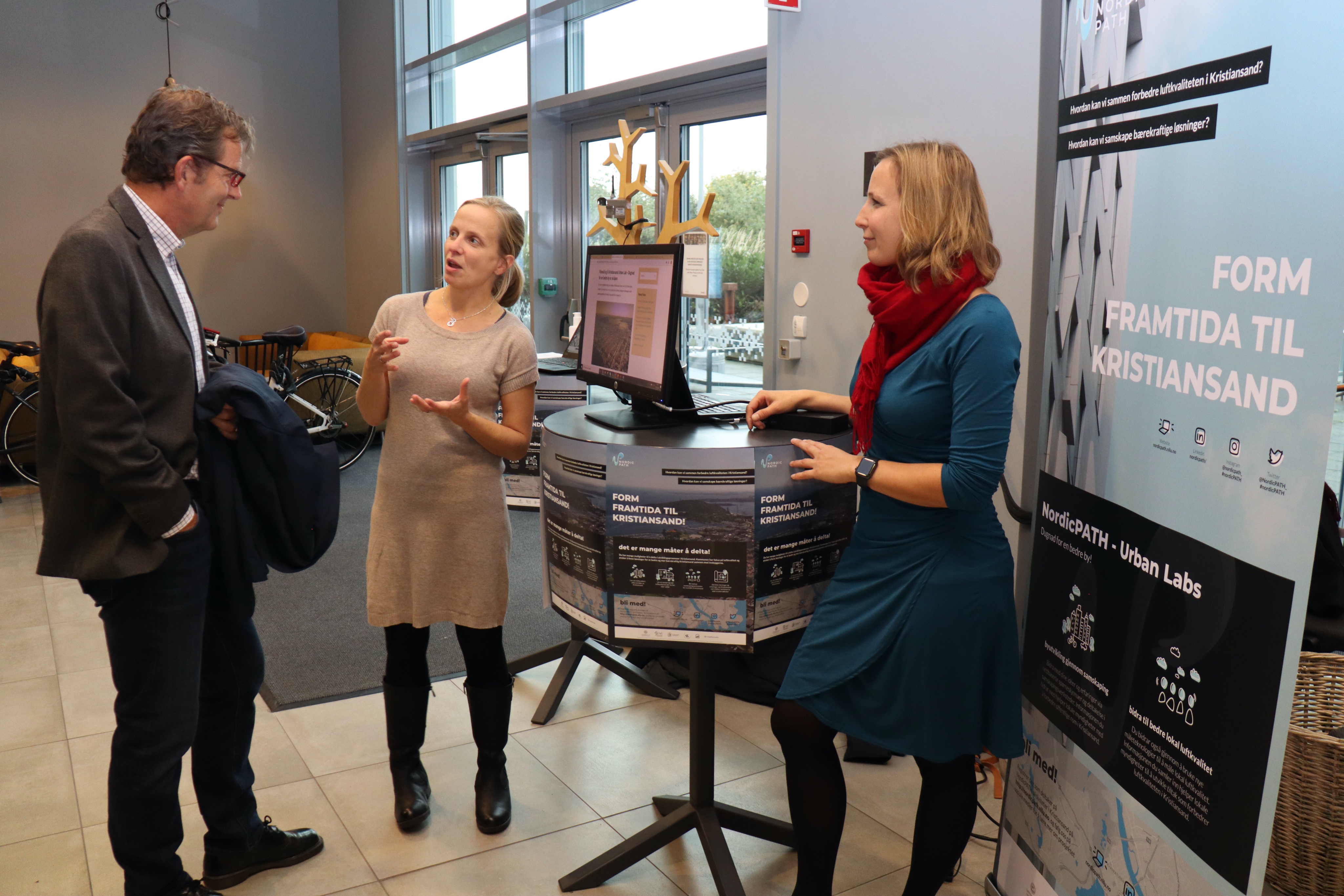 Their work paid off, and many citizens volunteered to host a sensor for air quality monitoring at their home and to get involved in further project activities. In autumn 2020, we could distribute about 30 sensors to interested citizens who wanted to measure particulate matter pollution in the Kristiansand air.
"The participants have been following closely the air pollution values on their sensors. Many expressed their surprise when they discovered how much wood burning can actually affect air quality", tells Solvor B. Stølevik.
In addition, we launched a survey about woodburning and air quality in Kristiansand where people also had the opportunity to contribute their views and ideas about how to improve urban air quality. Until now (January 2021), we have already collected over 200 responses.
Both measurement data and survey results will be presented at an event early this spring to both, the municipality and interested citizens. The event will be hosted by NILU, together with the Kristiansand municipality, and the Norwegian Asthma and Allergy Association. We also plan to invite the Norwegian Institute of Public Health to inform about the health effects of wood-burning and other particulate matter air pollution. Interested citizens will then have the opportunity to discuss results and pressing issues with the municipality and other groups attending.
"So far, the NordicPATH activities in Kristiansand seem to have found favor with our citizens. We are looking forward to continuing our good cooperation and hope that many citizens will continue their participation throughout the project period", concludes Stølevik.
Even though the project has been running for less than one year, we have already engaged with numerous citizens in the project activities in Kristiansand. It seems they truly care about the city they live in and we are looking forward to planning and carrying out more engagement activities to raise awareness of the citizens about environmental issues and to plan a healthy Kristiansand together with them.